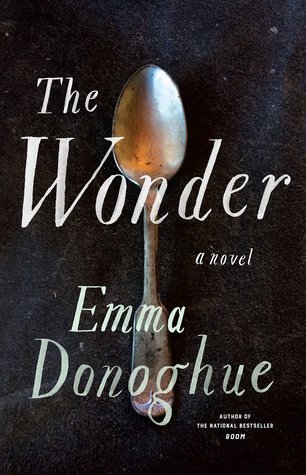 I'm pretty sure I added The Wonder to my TBR on Goodreads wayyyy back when it first got published in 2016. And then I forgot about it.
But then, while browsing the library shelves before work one Saturday, there it was, smushed between some contemporary fiction. And now we're here.
So if you don't know who Emma Donoghue is, she is the author of Room, which got adapted into the box office hit about a little boy and his mother with Jacob Tremblay and Brie Larson. I'd go into more detail, but this review isn't about Room, so… The Wonder has seen its own success since its publication, it's just not a movie yet. Anyway.
The Wonder is a nice little taste of historical fiction, set in Ireland several years after the end of the Great Famine (1859 according to Donoghue). It follows Lib, a young nurse who was trained under Florence Nightingale (the mother of modern nursing) as she embarks on a job no one else wanted. Lib has taken a short job in podunk nowhere Ireland under the impression she will be doing her nursely duties for two weeks in exchange for a decent amount of money. Instead, she comes to find that there is a young girl in this Irish village who people claim has not eaten a thing for four months. Lib's job is to watch this young girl for two weeks and report if she is actually refraining from eating.
Each of Donoghue's character's have their own individually elaborate stories, and carry all the depth you hope for in any good fiction story. Alongside Lib is the young girl, Anne and her colorful family, a nun, a young news correspondent, a priest from the local parish, and the doctor who was overseeing Anne's treatment. Each of them has a major part to play, and each has a story that unfolds with such breath and detail. You love them and you hate them all. No one character ever seems to be neglected or in the background, even when they're written as minor characters.
As the story progresses, Anne's health declines, and against her instructions not to meddle, Lib decides she must intervene to save Anne. From there it's a race against time as Anne's death lingers ever closer, and Lib must find the truth behind the last four months and convince the others to save Anne's life.
Much of the story is a clashing of philosophies. Anne, her family, and the fellow villagers believe her four month fast to be successful because of divine intervention. Her decision to begin the fast on her first communion was influenced by her deep devotion to God. Lib, a woman of science, believes otherwise. As Lib struggles to save Anne's life, she must fight tooth and nail against everyone around her who harbors a staunch belief that God will not let Anne die.
The story ends pretty surprisingly, but it takes a lot to get there. The characters shine where the story itself does not. The book seems to drag for ages, with all the action occurring all at once in the last third of the book. The extended chapters (about 60 pages each) make the wait seem even longer. I gave the book four stars originally, but I could easily see myself giving 3.5. The premise and characters are interesting, and the ending is satisfying enough, but all the trudging in between can be a bit off putting. To be honest, I finished the book a month ago and I'm still not sure what kind of impression it left on me.