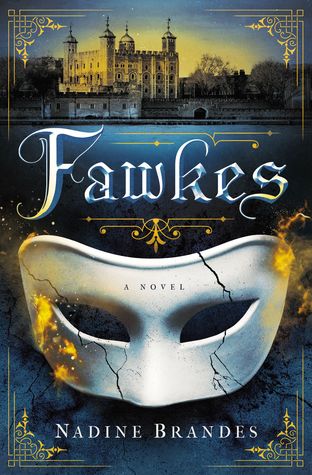 This was absolutely and entirely a cover-based choice, and I will readily admit that. I was strolling through the vendor exhibits at the American Library Association's Annual Conference in June, spotted this cover, and immediately picked up a copy. I regret nothing. I didn't even bother to read the back cover.
I adore fantasy books, they're one of my favorite genres to dive into. However, I'm always a bit wary when they mess with the tried and true formula of general magic and mayhem. Fawkes is set in 17th century England and lo and behold, is about Guy Fawkes (remember remember the 5th of November), or more importantly, his fictional son Thomas Fawkes. At this point I was already a little "ehhhh" about this whole book. Guy Fawkes and his son? Yeah, okay… But wait, there's more! So not only does Guy Fawkes have a kid, they live in an England that has magic. And not just any magic, it has COLOR MAGIC. When you come of age, you bond with a specific color, and then you can control items of that color. If you bond with brown, you can control wood and dirt and other fun brown things. Oh, and everybody has to wear masks of their color to use the magic, so now we have Guy Fawkes, his not real son, magic based on color, and everybody is running around wearing full face masks. Ohhhkay…
Boy was I pleasantly surprised by how dang enjoyable this story was. The premise is weird as hell, but Brandes ends up spinning a really great tale that pulls it altogether nicely. Thomas Fawkes is exactly what you expect from a 16 year old boy entrenched in a world of magic, lies, and betrayal. On the day he's supposed to receive his mask and bond with a color, his famous soldier father decides not to show up. Angry with his lack of parental support, Thomas decides to walk to London from York and seek out Guy. Did I mention there's also stone plague? Yeah, people are contracting a disease that slowly turns them into stone. And guess who has it? You got it, Thomas. So he's turning to stone, walking across the English country-side to London to find his crappy father, and he has no mask and no magic. But don't worry, he finds his dad, and gets roped into the plot we all know and love: his dad (and a number of friends) are going to blow up parliament and the king. In Thomas' England, there are two factions of color magic users, and King James is leading the one that's killing the other faction, of which Guy and his cohort are a part of. And to top it all off, Thomas kind of really likes this girl from school that just happens to be a part of King James' faction. So we've got magic, impending doom via stone plague, a plot to kill the king, and a love story that could end in betrayal. See, I told you Brandes does well.
The best part of this book besides the fun plot, is that Brandes utilizes tons of actual facts from the very nonfiction Gunpowder Plot of 1605. If you're familiar with the details of Guy Fawkes' life and his work in the plot, you won't be surprised at how some of this goes. I loved this aspect because while the story is still fairly outlandish, it's set in a base of fact and truth. It gives it a sense of credibility. Some fantasy books become TOO fantastical, too hard for the reader to really believe. This one checked all the boxes, I could see an England with a stone plague and color magic and not "guffaw" at it.
I ended up giving this one four stars. It's a little clunky at times with some of the writing, and there's a brief "white savior must eradicate racism" section for a few pages that it could really do without, but all in all, it's a strong book. It's Pub Day is today, July 10th, and I'm excited to see how it does. I will say, since it's not the most versatile (see "general magic and mayhem") fantasy book because it's also historical fiction, it might not be for everyone. But I definitely suggest checking it out and giving it a try. You might just be as pleasantly surprised as I was.